Ethel Landers - Facilitator
Joe Davidson  - Treasurer
Jeanne Surber  - Secretary
Donna Nisbet  - Trustee
Larry Conrad  - Trustee
Board Bio's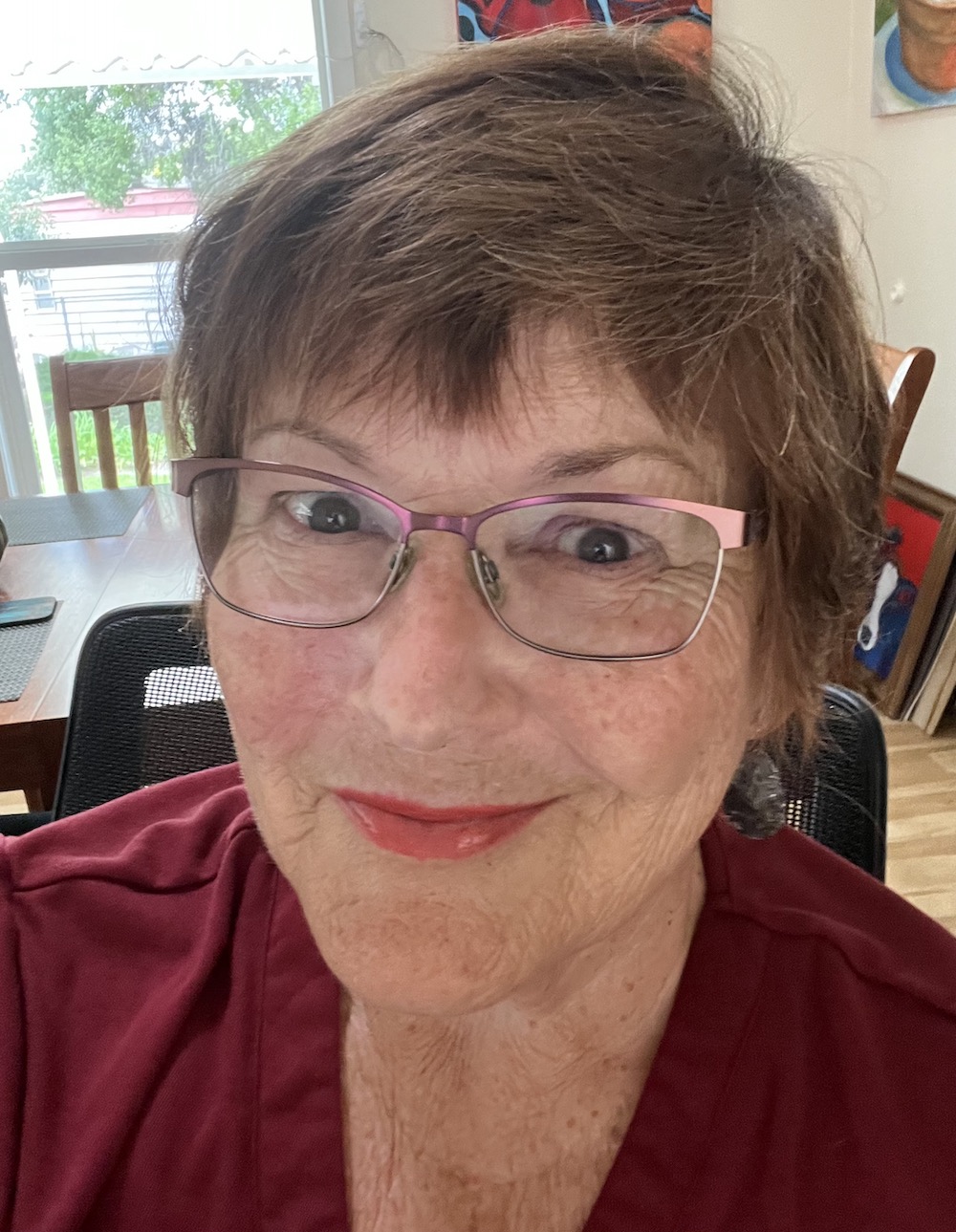 Ethel Landers, Facilitator
Ethel "Tink" Landers was born in Terre Haute, Indiana and adopted three days later by Fanny and Pep – an amazing couple who had always been told they were too old and too poor to adopt a child. Fanny had also been diagnosed with a heart aneurism and given 6 months to live but Spirit had another plan. After Fanny experienced an ethereal after-death experience she was pronounced healed. The stars aligned. Working through Doctor James Hoover and his nephew, Ethel's birth mother was hidden away and protected at Hoover's Sanitorium - an African America Clinic - and three days later Ethel, whose nickname became Tink, headed home to a large white Indiana farmhouse where her parents were resident farm laborers.
Tink's environment was filled with unconditional love, pigs, cows, cats, dogs, chickens, laughter, and Spirit. Fanny was a follower of Edgar Cayce and had an innate faith and inner knowing that there was more to God than what was taught at the little country Baptist Church.  Tink grew up under Fanny's guidance with a knowing of Spirit's amazing love, joy and peace plus an uncanny intuition.
While on her life journey Tink attended a variety of churches and spent ten weeks in Thailand studying art and Buddhism. In the 90s she served on the Board of Unity, San Luis Obispo. In 2019, after spending years questioning and searching for her truth, Tink discovered her birth father's family and learned her paternal Grandmother was a well-known Spiritualist and psychic in the Midwest. Frances Boyer Johnson held gatherings in a Spiritualist church as well as in her home on N. 12th Street in Terre Haute.  In fact she is the one who orchestrated Tink's placement with Fanny and Pep.
After a long career with Pacific Bell, Tink retired then studied at California Polytecnic State University, San Luis Obispo, earning a Bachelor of Science Degree in Art and Design, Suma Cum Laude.  She is a Prayer Chaplain an her purpose is to be a "Conduit of Good."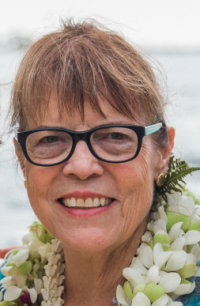 Jeanne Surber, Secretary 
Jeanne grew up in Omaha, Nebraska, and was a cradle Catholic.   She graduated from Creighton University with a degree in mathematics, and later obtained her Masters in Counseling and School Psychology from Cal State University Los Angeles.  She has been married to her high school sweetheart, Frank Surber,  since 1967.   Upon their marriage they left for California and have considered California their home ever since.  After moving every year while Frank was in the Air Force and having three children in three different states, they settled in Pasadena, California.  They lived there until 1986 when they moved to Santa Barbara.   Jeanne had worked as a high school math teacher, a school psychologist, and school administrator until retiring in 2007.
While in Santa Barbara, she was introduced by a friend to Unity Church.  She again felt like she had found her home.  She became a member in around 1992.   For a time she was a Youth of Unity teacher in Santa Barbara.  
In 2017, she and Frank moved to Arroyo Grande and found Unity Five cities.  She loves living here and enjoys her hobbies of fiber art, crocheting, and travel.  She feels honored to having been elected to the Board and looks forward to serving her church and her community.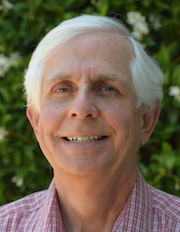 Joe Davidson, Treasurer 
Joe grew up in Oklahoma City attending Putnam City United Methodist Church. He received a Master's Degree in Geology from Oklahoma State University and began work in Tulsa. From there, he went to Houston, then Bakersfield, and then to Santa Maria, where he retired after a 38-year career working for numerous oil companies. While in Bakersfield, he was married and raised a son and stepson. He performed with a theatrical non-profit in melodrama for eight years to raise money for the Relay for Life and the American Cancer Society. He was active at the Center for Spiritual Living, Bakersfield, where he was head of grounds and maintenance, served on the Board, and sang in the choir. Joe is blessed with loving family and friends, including those at Unity Five Cities, where he serves on the Board, helps with the audio/visual, and sings in the choir. Hobbies include gardening, music, ballroom dancing, and antique cars.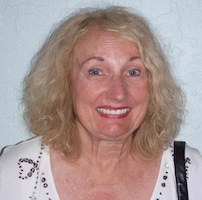 Donna Nisbet, Trustee 
Donna says, "I love Unity."  She is a retired school teacher from Hermosa Beach and has been a member of Unity for 20 some years. She is a facilitator for Alternatives to Violence Program that  works to reduce further crime by incarcerated men and women.  She has been on various committees including clean up for Unity.  Donna is also a member of the Trilogy Service Club that raises funds for non-profits.  She says, "I truly feel thankful that I am in Unity."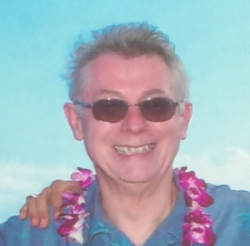 Larry Conrad, Trustee
Larry Conrad was born and raised on a small family farm in the middle of Iowa.  He was the first in his family to go to college earning a Bachelors in Science (from Iowa State University) followed 20+ years later with a Masters in Engineering (from Arizona State University)--both degrees were in Computer Science.  He has been a bit of a "professional gypsy" in that he has lived in IA, IL, MN, AZ, FL, NC, and now CA...wherever the next job took him.  He recently retired from UC Berkeley where he served as the campus chief information officer, thus finishing out his 50 year career in information technology.
He met and married his fabulous wife, Rita, in 1988 in the Unity Church of Mesa, Arizona.  He has 2 older adult children from a first marriage along with 3 grandchildren.  Rita and he adopted their son, Alec, from Poland when he was 4. 
His spiritual journey began in a Methodist Church near the farm where he grew up.  He did not connect with that theology and by early adulthood, was an avowed atheist, deciding that the universe was a random experience.  However, over the course of the next several years, he began noticing that "things" had a way of playing out in ways better than he could think of or even imagine.  A level of synergy/serendipity that he could not square with a random universe.  When he met Rita, she introduced him to Unity and A Course in Miracles.  Both resonated and explained much.
The Conrad family moved to Nipomo in early 2020 from the Bay Area and discovered the wonderful Unity Five Cities family.  He is honored to serve on the Board and support this special community.
What does the Board of Trustees do?
The Board of Trustees directs the business portion of our organization through the development of goals and policies that are in line with our Unity teachings and vision and mission statements.
The Board duties include:
- Visioning the future and implementing our vision and mission statements
- Receiving a wide range of input
- Providing leadership and allowing the staff to handle administrative detail
- Decision making by consensus
- Actively looking for and implementing new ideas and concepts
Regular Board meetings are at least one a month, more if needed. A notice of the time and place of each Board meeting appears in the Sunday bulletin and is normally the third Sunday of the month after the Sunday Celebration. All Board meetings are open to the congregation except during Executive Sessions, which are solely for discussion of confidential issues.
The Board of Trustees consists of five to seven members serving two-year terms and are elected by the Congregation.